In my day job as a teacher, my role is very varied.
I can be sitting on the floor solving maths problems one minute, and kicking a ball on playground duty the next.
This can make finding appropriate work outfits a bit tricky. I am required to look professional, but also need to be comfortable and conservative.
Nikki has asked me to share my tips on how to dress well as a teacher in summer but even if you're not a "chalkie" I hope you will be able to find some work wear inspiration.
Tailored shorts
1. Sussan Island Print Short – $59.95 | 2. Diana Ferrari Paige wedge – $139.95 | 3. Diana Ferrari Mandy flat – $139.95 | 4. Sussan Summer Colour Blazer – $99.95 | 5. Portmans Lola Tee – $39.95 | 6. Forever New Alice Embroidered shell blouse – $69.95 | 7. Colette by Colette Hayman Kensington tote – $49.95
The monochrome trend is very popular this year, and it makes it very easy to look polished.
Tailored shorts are a summertime staple in my work wear wardrobe as they are comfortable and make it very easy to move around. These patterned shorts from Sussan add a point of interest to the outfit, and can be worn with a plain top in monochrome or colour.
Flats and wedges are my shoe of choice for school – I firmly avoid high heels after unintentionally aerating the playground soil one day in my first weeks of teaching.
Being on your feet for much of the day sees me reaching for flats the majority of the time, but wedges are a great option for those days when you need to be a little more dressy.
I know Nikki is a huge fan of the blazer as well and I can not recommend one in your work wardrobe enough. They can be worn year round, and instantly make an outfit look smart.
Such a versatile piece is worth the investment.
If you're like me, you lug lots of bits and pieces to work with you and having a bag big enough for your diary and paper work is a must. A tote is the perfect bag – large enough for important paperwork, but not so big that it will hurt your back.
Frocks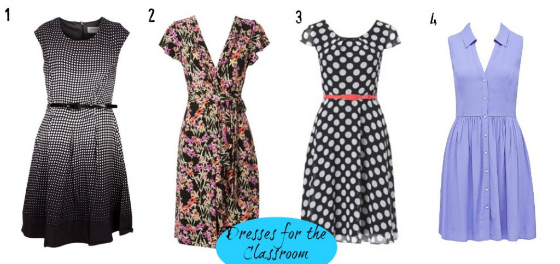 1. Peter Morrissey for Big W Graduated Dress – $35 | 2. Leona by Leona Edminston Sherbert Daisy dress – $129 | 3. Diana Ferrari Pattie Dress – $189.95 | 4. Forever New Lindsey Shirt Dress – $89.99
The end of the school year results in many functions that a teacher needs to attend in a professional capacity.
Prize giving ceremonies, farewells and Christmas parties call for a nice outfit and nine times out of 10 I choose a dress.
Shirt dresses are a fantastic option for the classroom – they always look great, and the sleeveless option above is perfect for the warmer weather. It could also be dressed down for weekend wear with a belt and some cute sandals.
The pencil skirt
1. Portmans Pineapple Print Top – $49.95 | 2. Bondi Beach Bag Co Classic Wide Brim Hat – $49.95 | 3. Forever New Dannie Printed Tank – $69.99 | 4. Portmans Pretty Panel Pencil Skirt – $69.95 | 5. Jeans West Aria Foral Lace Top – $29.99 | 6. Kikki-K Aland Shoulder Bag Uto – $350 | 7. Portmans Lola Tee – $39.95
A pencil skirt is a must-have work wear option. It can look immediately professional with a collared shirt, or a little more casual with a coloured tucked in tee.
Bright colours and prints are always a hit with my students, and I couldn't go past this cute pineapple print tee for a hint of summer.
The kikki.K bag has been on my coveted list for a long time. It is large enough to hold your laptop, iPad and marking.
A wide brimmed hat is a must for playground duty (make sure it protects both your face and shoulders) and can be teamed with your favourite sunglasses for the ultimate in sun protection.
All of the options above can be mixed and matched with a skirt, shorts or pants making them very versatile options to suit any wardrobe.
Top 3 teacher style tips
1. Protect your modesty. Make sure you select clothes that you can bend, stretch and lean in without showing too much skin. Consider adding a singlet or camisole underneath a dress or top that is too loose to make it suitable for school.
2. Consider cost. Save your expensive clothes for the weekend, and wear pieces that you wouldn't be devastated to lose at the hands of a paint brush wielding child. Chain stores are a fantastic option for workwear, with great looking garments for reasonable prices.
3. Add accessories. Scarves, belts, necklaces and earrings can be the perfect way to inject a bit of your personality into a conservative work outfit. Accessories can instantly update an outfit, and can be a very cost effective way of trying new trends without spending a fortune.
Sarah is the writer and editor at Style Unearthed, a blog about fashion, beauty, health and home. You can chat to her about all things style on Facebook and follow her adventures on Instagram. Sarah has never met a handbag she didn't like.