A little over 12 months ago we were standing under a big, old mango tree, solving the first world's problems over champagne while celebrating my girlfriend Simone's 39th birthday.
As the mango flowers dropped around us, a seed was planted for her 40th.
I didn't think much more of it (blame the champagne) until March when the invitation arrived the old fashioned way. In my letterbox.
The letter outlined a very exciting proposal. A five-night-long party to celebrate Simone's big 4-0 … in Bali.
Within a week Mr SY had granted a leave pass, volunteered to take annual leave to cover things at home and I had booked the airfare.
I was going.
It would be my second trip to Bali for 2013. I'd be revisiting places I fell in love with in January and seeing new things … with some of my closest girlfriends.
A sweet reward for a very big year on the work front.
Sitting here now, writing this post and thinking back on what we were doing this time last week (oh hello sunset drinks at Ayana Resort) it seems like a dream.
Albeit a dream where you laugh so hard for six days that your cheeks ache just recalling it.
Let me be upfront with you. If you've come here expecting me to list off any number of cultural and/or spiritual-yoga-type things to do with your girlfriends in Bali, then you've come to the wrong place.
Except, of course, if you worship the espresso martini gods or consider daily massages the equivalent of a yoga workout.
Then, and only then, have you very much come to the right place.
Saddle up Sisters, these are my nine tips for a girls' getaway to Bali.
1. Choose your girls
An obvious one maybe but something to put a bit of thought into. Get the mix of personalities right and it won't matter how big those personalities are. It will work because collectively all will respect and support each other.
Our biggest test about how all those personalities would come together happened at the very start of our trip when we all arrived at the airport bright and early to discover our flight had been cancelled.
Nine of us were flying together (two were already in Bali, getting a head start on the fun). None of us received notification of the cancellation until that point when we were all split up and put on three separate domestic flights to Melbourne or Sydney, only to be then flown to Bali on a rival airline.
You can just imagine the "love" we DIDN'T get from that rival airline – or the original airline once they'd passed us on. Yes, we were disappointed for many reasons: to be split up; to have the stress of running to make our Bali flight from Sydney one minute before check-in closed; and for those flying out of Melbourne to be treated with disdain while trying to check in.
No-one lost it though. The eye remained firmly on the prize. Sleeping that night at our villa in Bali.
2. Choose accommodation that suits
This would have been a very expensive exercise if all 11 of us were to have booked into hotel rooms with two or maybe three at a stretch to a room. One of the appeals of Bali for a getaway like this is the ability to book a large villa right in the heart of the action. Typically they come with their own pool and separate accommodation pavilions.
Bali Villa H2O couldn't have been a better choice for our group of 11. One of the girls in our group is friends with the owner, so recommended we book it. It's tucked in behind shopping strip Jala Raya Seminyak. When I say tucked in, you reach it via a bamboozling collection of narrow alleyways, some of which can take cars, some not. Arriving at midnight doesn't help with getting your bearings but a walk in the day time allowed us to get to know an easy walking path to the main road, where taxis drove past every minute and shopping was ours for the taking.
The villa itself was stunning example of modern meets Balinese. A huge open kitchen, dining and lounge pavilion overlooking the large pool provided a great central place in which to hang. We all had a bed in which to sleep – some of us sharing – but it was far from roughing it.
Adjoining the living area was a study with a sofa bed. There were two bedrooms downstairs (where we had a queen and a single bed plus ensuite in each) and upstairs was the master bedroom with king bed and day bed. There was also another whole party deck upstairs overlooking the roof tops of Seminyak.
With a total of five bathrooms, getting ready to go out was never an issue either.
Wi-fi and air-con was great (except when the electricity wasn't working … I think we overloaded things a bit) and the built-in speaker system and iPod dock meant we had tunes helping the party along, day and night.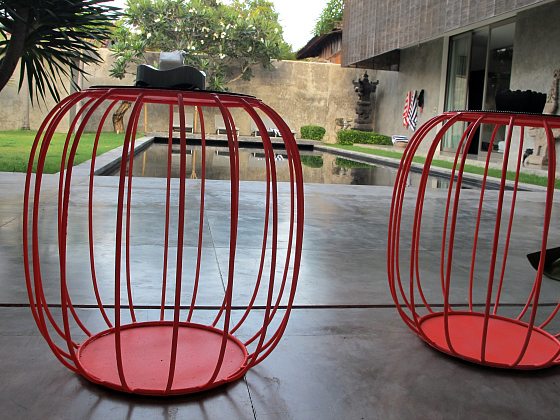 3. Plan … but not too much
Our five days became four and a bit days so it was a good thing that we had a bit of a plan for how those days would play out. Each kind of went with a certain rhythm: wake at leisure, breakfast, massage, relax in and around pool, go out early-to-mid afternoon for lunch/drinks/dinner, returning later that night … or early the next morning.
We had two birthdays during our week – one 40th at Potato Head and one 28th at The W. For these, plus a final night dinner, we had booked before coming to Bali to ensure we could get in. Some of these places book out even if it's two people trying to get in – with 11 it was essential to pre-plan. Something our villa owner and manager was happy to help with – beforehand and while there to confirm.
There are places you can't book – like the Rock Bar or to get a pool lounge at Potato Head – but with a little patience and a cocktail on a arrival at Potato Head it wasn't long before we scored a lounge. We only needed one as a base as most of us were quite taken with the swim up bar, which is where we stayed until it was time for dinner. Dinner had been booked at on-site Lillian restaurant. Just quietly, the chilli crab was mind blowing.
For our final night, we went to Sarong. The food was as fabulous as during my visit in January. We were considered a group, which meant going with a set degustation menu and having to pay a $100 deposit in person at the restaurant to secure the booking. The deposit was a bit of a pain but the set menu is actually a great idea in such a big group – anything that reduces decision making.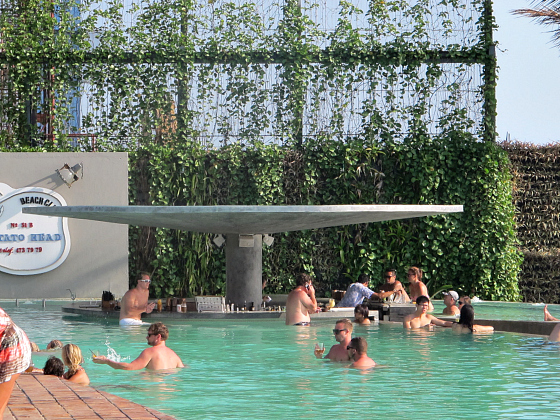 4. Dress up … or down
Our group could easily have been split down the middle when it came to how heavy our suitcases were when we finally checked into flights. You can probably guess which camp I fell into? Yep. The heavy one.
Despite this, I actually wore each and every garment that I'd packed – bar one which had been earmarked for the first night that didn't happen. I did loan it to someone else though, so it didn't go unloved.
In a nutshell, I packed a daytime cotton or rayon sun frock or kaftan for each morning and then showered and changed into something from the fancy side of my kaftan wardrobe.
Packing at least two swimsuits is essential – that way one is always dry.
Each and every one of our group always looked a million bucks.
Our collective accessories and clothing pieces could have stocked a small boutique. Well, we we did have a fashion designer and a boutique owner as part of our group. And a hairdresser. And two former models. Yep, no pressure.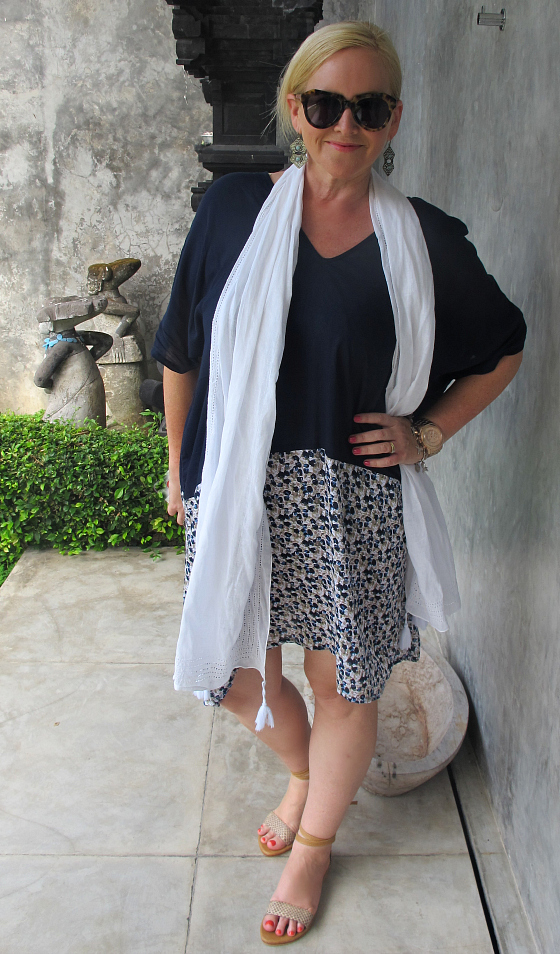 All for Kat Henrietta dress* | Karen Walker sunglasses | Samantha Wills earrings | Sportscraft scarf | Bella Lido sandals*

Camilla kaftan (worn over Sacha Drake slip) | Salita Matthews necklace | Stuart Weitzman wedges | Prada sunglasses | Samantha Wills ring and cuff | Michael Kors watch | Sophie Kyron earrings
5. Get the food to come to you
It was a bit of a disappointment to cook my own breakfast this week. Having fresh fruit, bacon and eggs cooked for us as we woke each morning in Bali made for some lazy, hazy starts.
We also had the girls cook us lunch as a stomach-lining strategy before heading to Potato Head. I'm still dreaming of the Balinese corn fritters and coconut and bean salad.
Each morning we collated a list of drinks and snacks we might need for the day and these too miraculously appeared not long after.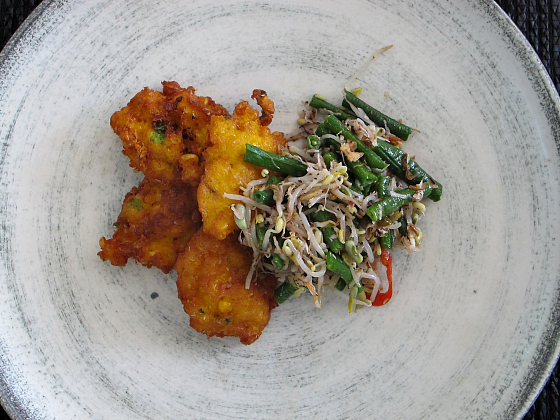 6. Get the spa to come to you – or not
I cannot tell you how seriously relaxing it was to have beautiful Balinese masseuses come to our villa every morning and massage us before we've even got out our pjs. We'd float on to the bed and float off for the princely sum of $10 for the hour. On one day I backed up the massage with a head and scalp mask and massage. OMG.
Our villa manager Iloh organised and booked the masseuses from Teratai Bali Spa (0361 8734977) – we just had to nominate a time and how many the day before.
I've written before about visiting Bodyworks and can highly recommend it. Didn't get there this time due to in-villa indulgences but three of us did venture out to new nail bar, Think Pink Nails. Worth a visit if wanting a mani or pedi refresh mid holiday. Not sure the New York theme fits with Bali but the service and price was definitely right.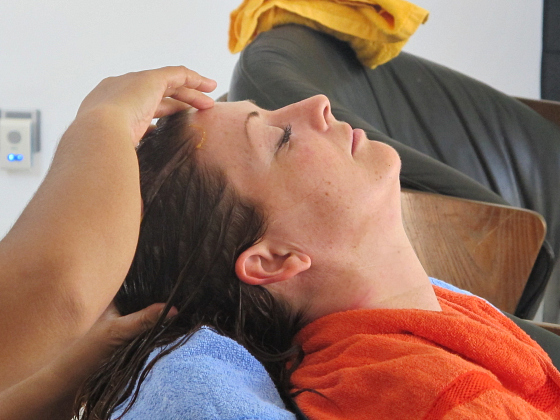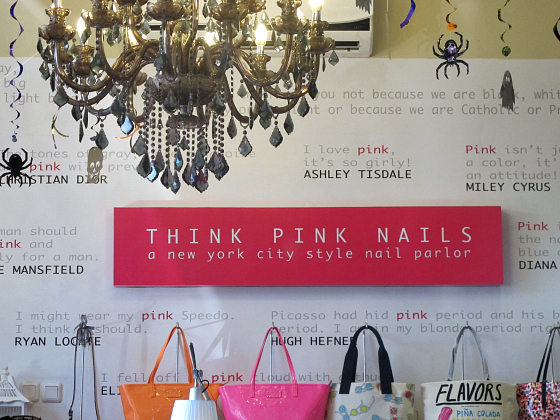 7. Embrace the cardio shop
I realised early on that if I were to fit in any shopping in between massages and cocktails, it would have to be applied with a take-no-prisoners, smash-and-grab approach. Yes, my two short shopping expeditions were my cardio for the week.
I re-visited some of my favourite stores plus found a new favourite, Biasa – an Italian-designed, Bali-produced range of floaty cottons pieces in cuts ranging from the subtle to the dramatic.
8. Bintang or cocktails?
Whatever your poison, limber up. Unless you're booking into a health retreat in Ubud, then a girls' week in Bali will be about going the distance and weighing up the pros and cons of choosing a ginger and lychee mojito over a passionfruit margarita.
Even at the more expensive bars, beer and spirits are cheap by Australian standards. Wine not so.
9. Arm yourself
The downside to a girls' getaway to Bali? The stats are not on your side. There's a strong chance that at least some of your group are bound to come down with the dreaded Bali Belly.
None of us escaped it this time – experiencing it in severities ranging from minor to very bloody major. Mine came on the final night and my stomach is still going into spasms each time I eat. I think the Blackmores Digestive Balance tablets have helped with slowing the "flow" and I've also eased the pain with peppermint and lavender aromatherapy oils rubbed on my tummy. The rest will just take time.
What I also ended up using lots of was a natural insect repellent, Vanilla Mozzi – not only did it smell good but it worked at keeping those tropical mozzies at bay. I always went out with the small tub in my handbag and had the big tub by my bed.
Finally, there is an unwritten rule about any girls' getaway. What happens on a Bali girls' getaway stays on a Bali girls' getaway. Roger that!
Got any tips to share of your own? What do you love most to do on a girls' getaway? Where's your fave place to escape with your girls … even if it's only for one night?
PS. Never been to Bali? I've updated my Bali tips for newbies post with things I learned on this trip.
* These pieces were sent to me for editorial consideration