My eight-year-old son came home from school last week with a line drawing of the Eiffel Tower.
Presenting Exhibit A …
I've been offering all the right noises in regards to the kids' artwork presented to me over the many, many years but this one stopped me in my tracks. I mean, it actually looks like the Eiffel Tower.
In one simple sketch (I think the stars really add something, don't you?), my youngest transported me back to the my childhood and my first – and only – trip to Paris.
I was 12. It was Easter time and we were staying as a family just outside of Paris at Versailles, which sounds terribly romantic and exciting doesn't it? Except until I tell you we were camping.
Now, I think my loathing for camping actually originated that Easter of 1980. Sub-freezing temperatures and no air mattress will do that.
What I didn't loathe was wandering the streets of Paris, eating petit pain au chocolat (the only French I mastered), walking up Montmarte and climbing two stories of the Eiffel Tower, the very thing my son drew and came home with.
He has been studying countries and their landmarks this term and this one clearly resonated with him. I've vowed and declared to take him to Paris before he is the age that I was.
It's about time I saw this beautiful city again through the eyes of obsessed adult, don't you think? Oh, and a little FYI, camping will not be on the agenda.
So when Blue Illusion asked me to share with you their latest capsule collection – the Art Series Riviera Galerie – I jumped at the chance to get my French on.
Blue Illusion has long connected the dots between fashion and art and the philosophy of the stores celebrates the love of all things French.
Designer and owner Donna Guest (she's in partnership with her husband Danny) is a self-confessed Francophile. She loves the way French women – of all ages – exude style.
The spring-summer 2013 fashion collection uses the French Impressionist movement as inspiration – and the campaign was even photographed in Monet's famous Giverny home and garden.
I didn't go to Monet's garden for my shoot, so you'll just have to squint your eyes and imagine.
The focus for the Riviera Galerie capsule collection I'm wearing is very much about colour – aqua, cornflower blue and white. It's fresh, and in my opinion, just begging for another pop of colour.
I've chosen two Model and Me looks to feature – one a frock; the other a capri pant and knit.
The frock is one of those summer frocks that can be dressed down with flat sandals or dressed up a little for work or a girls' lunch. The model wears the former. I chose the latter.
The model
and me

Blue Illusion Riviera Silk Spot Dress  (size 14) $199 | Blue Illusion Scallop Trim Bolero (size L) $129.95 | Kors by Michael Kors kitten heels (bought in NYC last year) | Mikimoto pearls (my late mum's) | Alex Perry for Specsavers sunglasses
Now, I know that you know that I don't do three-quarter pants. No Siree.
What I do do (if I'm not doing shorts) is the cropped capri pant. There is a difference, so please bear with me while I explain.
With three-quarter pants, it's typically a wide leg dropping from your hip (your widest point) straight down to your mid-calve (your leg's widest point). The cumulative effect of all this wideness is, well, more wideness … and stumpiness thrown in for some non-flattering measure.
Capri pants, on the other hand – or leg – are slim fitting, follow your leg's natural shape and end near to the narrowest part of your leg … your ankle. Even on one of my cankle days, my ankles are still the business.
The model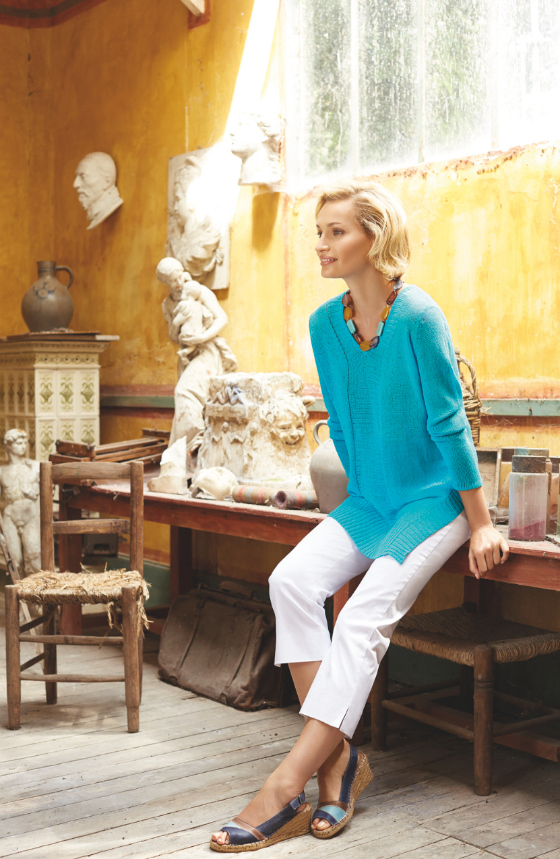 and me

Blue Illusion Asymmetric Hem Knit (size L) $149.95 |  Blue Illusion Bengajean Capri Pant (size 14) $129.99 |  Blue Illusion Clara Scarf $79.95 | Misano Shoes ballet flats | Samantha Wills ring | Uberkate bracelet
A word on the knitwear. Yes, I live in Queensland. Yes, apart from one day this week, it's pretty much go-time for steamy summer temperatures.
But.
There are still nights when lightweight knits are just what you need if you're out and I'm also very aware that you may live somewhere that won't fully warm up for some time. If that's you, now is the time to stock up as you can still look like you're dressing for spring but in garments that keep you warm.
—————————————————————————-
Win a weekend in Paris
Did anyone just squeal at the thought of this? Can you imagine?
Blue Illusion is giving one lucky person the chance to win 48 hours in Paris. The prize is valued at $10,000 – hop on over to enter. You have until October 14 to come up with and submit an answer to this question: You have 48 hours in the City of Lights: what would you do?
—————————————————————————-
So tell me, do you love a bit of French chic? And if you've been to Paris, what's your favourite memory?
PS. The lovely people at Blue Illusion have given me a $25 discount code to share with you if you want to buy online. Just enter stylingyoublue at the check to save (code is valid until October 14, 2013).
Coordinated by The Remarkables Group