I interrupt my planned programming today to bring you a follow-up post to yesterday's winter maxi skirt outfit post.
SY reader Jo Morgan said on the Facebook page: "might need more styling pic options for encouragement. Always get stuck with tops/jackets to go with".
And on Twitter, Julie Juratowitch asked, "Is there an age limit for wearing maxis? I love 'em but I'm turning 55 in a few months …".
Well, Jo and Julie, I'm glad you spoke up because I went searching in the SY archives and while I've touched on the maxi a lot over the years, I've never published a post dedicated to their wardrobe usefulness. I've been remiss in dishing out specific advice about how to wear a maxi skirt.
… so no time like the present, I say.
The case for the maxi skirt
A maxi skirt looks effortlessly more stylish than a shorter option.
You feel that bit more dressed up, even though you may be in a casual outfit.
A maxi skirt means you can be a little lazy-girl in the hair shaving department.
And lastly, should you choose your maxi well, they can be the most flattering garment in your wardrobe.
Style tips
1. Starting with the right maxi skirt for your shape is the cornerstone to successfully pulling off this look.
The tube-style or slight A-line skirt is universally the most flattering (even you are shorter than average) style and is an easy base on which to add layers – summer, winter or trans-seasonal. Yes, there may be some lumps and bumps for the skirt to travel over (we are only human) but just like my case for the skinny jean, it really does come back to what you wear WITH the skirt to make this style work for you.
If you are pregnant this is definitely a go-to look. Keep the skirt and top streamlined and then add a cardi, jacket or kimono depending on the weather.
If you are tall and slender then by all means embrace a style that is gathered from the waist.
Another style that can work for most people, particularly if worn low on the waist, is this one as seen on Nina Proudman in Offspring. The band means that it sits flat on the tummy and then the gathering drops from below the band.
2. Adding layers to a maxi skirt should be done with a thought to proportions. The best outfit combinations balance out proportions and we're dealing with a lot of fabric here so it's even more important to play with what works for your shape.
So, if your choice is the waist-gathered, fuller maxi with lots of volume down below, then up top you need to keep things streamlined to the max so that your waist is emphasised. If belts are your thing, they work a treat with this look.
Conversely, with a streamlined maxi skirt you can afford to add a bit of volume up top with a slub tee, knit or shirt. And if you like a perfectly streamlined look, never fear it works as well. Belt lovers can add a belt to showcase their waist.
3. Don't go too hard on the up-top volume. You are not aiming for a look that is tent like in proportions. The top layers can be loose but they need to skim the body and show your shape if the look is to work in a non-Little-House-On-The-Prairie** way.
4. Spring/Autumn look: team with a loose shirt, sandals, clogs, wedges or platforms. Avoid ballet flats with a maxi unless there is a little bit of ankle showing. If skirt is to the floor, then ballets can look out of proportion with the skirt, making you look shorter instead of elongated.
5. Summer look: keep things simple to keep your cool with a lightweight skirt, tank or tee and a necklace. Add a sheer kimomo top if cool. Sandals, clogs, wedges or platforms work here as well.
6. Winter look: team with layers. Start with a tank top, add a shirt, add a knit or a blazer and add a coat if needed. Underneath, wear tights. Ankle or knee-high boots with a small to medium heel work best to keep this look casual. Flat boots slip into the prairie territory mentioned above.
6. Choose a maxi skirt in a fabric weight you know you'll be able to wear from Autumn through to Spring. This way you get more bang for your fashion buck and you just layer as required for the season.
7. This is not a style that should be limited by your age. Not that I think any style should be. The main thing is that you feel comfortable and confident wearing this look and team your maxi skirt with items that fit and flatter.
Maxi skirt: styled four ways
1. ASOS Curve maxi skirt  $21.02 (on sale) | 2. Harlow tee $48.97 (on sale) @ The Iconic | 3. Ruby Olive necklace $45 | 4. Windsor Smith platforms $149.95 @ Style Tread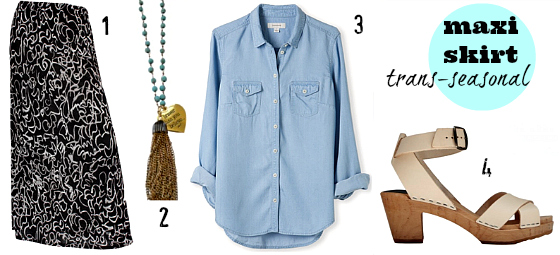 1. Verily maxi skirt $65 (on sale) | 2.  Cat Hammill necklace $79.95 | 3. Country Road shirt $99.95 | 4. Funkis sandals $165
1. Metalicus maxi skirt $119.95 | 2. Witchery knit $99.95 | 3. Junk pea coat $109.95 @ The Iconic | 4. Trenery scarf $59.95 | 5. Mollini ankle boots $189.95 + whatever layers you need underneath to keep you warm
1. Mossee maxi skirt $95 (on sale) @ The Iconic | 2. sass & bide capelet $550 | 3. The Mist earrings $39 (on sale) @ Molten Store | 4. Tony Bianco heels $149.95 | 5. Mimco clutch $249
For more maxi skirt styling inspiration, check out my dedicated board on Pinterest where I've pinned real women wearing maxi skirts – both the streamlined and gathered styles.
Hit me with your maxi skirt styling question and tell me which of these looks you can see yourself wearing?
** Once again showing my *maturity* with this reference. Younger readers, hit the Google search button now.