Our first sighting of a Balinese beach was on our first morning here on the island.
We were up and ready early. As you do in Australia to catch the best of the beach conditions.
Turns out that that doesn't happen in Bali. Despite the UV rating being off the charts, no-one was on the beach. Except for a handful of hawkers hoping to catch unsuspecting first-time tourists.
Umm, that would be us.
And as we stood on Legian Beach, watching the onshore winds throw a churned up, murky sea on to the shore, we really did look like Bali newbies.
So we did what newbies do and packed in the whole beach idea and went shopping.
Yesterday was different.
We asked our driver, Dewa, to take us in search of some nice beaches.
First stop Nusa Dua.
This was an eye-opener – this area is home to some stunning white coral beaches but it is also an enclave for the many of the 5 star hotels on the island.
So much so you have to be staying at one of these hotels to use most sections of the beach.
On the eve of Australia Day, I have to say, Australians have it good in this respect. Our beaches are free and open to all.
At Nusa Dua, there is one public beach section and we immediately availed ourselves of the facilities. That entailed buying our way into the beach club, pool and lounges with the purchase of a few drinks.
Mr SY hired a board for $15 and paddled out to the break while we lolled around like jellyfish in the lagoon.
Number one son and I were asked by students of an international school if they could practise their English on us. Happily we did.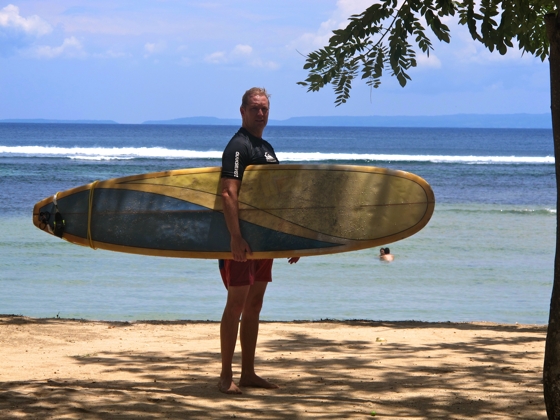 Decided that this was nowhere near enough beach beauty for one day and declared we needed another stunning view for lunch.
This view from Single Fin, Uluwatu, worked back nicely with fish tacos and a couple of mojitos. Thank-you very much.
Next up, a visit to what used to be a deserted beach. Then along came the Eat Pray Love film crew and a certain night beach scene … And well, every man and his dog visits Padang Padang for a swim.
Well, every man and his dog except Julia Roberts and Javier Bardem …
Want more? 13 tips for travelling for travelling to Bali if you're a newbie