Sponsored by Golden Circle and Nuffnang (all comments are my own)
I love travelling. But you know what? It's REALLY, REALLY good to be home. Dorothy was right.
There is no place like it.
Granted, I do get to wake up each day in one of the most beautiful parts of the world, with clean beaches on my doorstep … well a 15-minute walk away from my doorstep.
In fact, the beaches near where I live are very well loved and used by locals and tourists wanting to keep active and take in their surroundings.
Now, I wish I could tell you that I'm one of those people who jumps out of bed keen to pound the pavement in the interests of better health.
But I'm not.
Don't get me wrong. When I actually get out there and soak up the sea air and scenery, I love it.
It's just the getting me out there bit that I need a good prod up the bum about.
So, rather than have someone else administer that prod, in the interests of reforming my desk-bound ways, three months ago I set about getting back on track with regular exercise.
It's not the change-the-world exercise regime that would see Michelle Bridges giving me a slap on the back for good effort.
No, it's more about getting out and getting moving (or doing a few strengthening exercises at home). Stuff that with minimal effort can – and does – have quite an impact on my wellbeing.
Remember in Part 1* where I talked about my thyroid auto-immune condition and how I've adapted what I eat to better support my immune system?
Well, through some crazy trial and error I've learned what type of exercise works best for me. With the emphasis on crazy. Unfortunately I learned the hard way, thinking that I needed hard core, Biggest Loser-type training to shift some kgs.
Not only did my immune system pack it in every two weeks, taking on whatever bug was going around, but at the end of eight weeks I had PUT ON WEIGHT.
Basically my immune system had said, "rightio, she's stressing us out, we're going to have to hang on to these extra supplies in case she never feeds us again".  The same happened doing pram-a-cise after my youngest was born, only the extra *bonus* then was my milk supply drying up and being one of the lucky 10% to get her cycle back two months after giving birth. While. Still. Feeding.
Frustrating with a capital F.
So, what do I aim to do most days**?
1. Be kind to myself. I have a body that can move. I'm grateful for that. Whenever frustration sets in regards to being unable to shift the kgs, I remind myself that it's just an immune condition. There are plenty of people out there living with much worse. Yep, suck it up sister.
2. Get off my butt and away from my computer. Sometimes I do think the children have been playing a practical joke on me and applied superglue to my chair 😉 but then I realise that no, it's just me and my stupid mental attitude and attachment to my work. Stupid.
3. Just walk. Sounds easy doesn't it. But I tell you after a crazy over-loaded working start to the year, my sneakers were struggling to even be recognised under a serious coat of dust. We are on walking terms again and that feels good.
4. Twice a week do strengthening exercises at home. Think lunges, squats, tuckshop arm dips, sit-ups and lateral raises. It's not much and it's not hard-core but it does get me feeling strong. The list of exercises did come via a personal trainer who thankfully understood that I don't fit into the one-size-fits-all style of training. And I'm forever grateful for that.
**Please seek out your own advice from a GP or health care professional before starting an exercise regime. I'm not a GP, a personal trainer or exercise physiologist but I have received advice from them over the years. Some of that advice may have been in the early '90s and fluoro lycra may have been involved. Cardo funk class, anyone?
 —————————————————————————————-
* This four-part blogging post series is brought to by Golden Circle. Golden Circle has released a new juice range – Golden Circle Healthy LifeTM Fruit Juice – which contains  a unique combination of probiotic cultures clinically shown to support your natural immune system. Looking after your body with the right foods, exercise and rest also supports your immune system and keeps you on top of your game.
It's the first of its kind of juice in Australia, offering a dairy-free dose of probiotics without added sugar or artificial flavours and colourings. Every serve contains 1 billion beneficial bacteria, which work in your gut to support your natural immune defences.
The juices come in Breakfast and Apple & Mango flavours in either a 1l or 300ml bottle.  Both flavours got the thumbs up from the Styling You household but for my money, I'd choose the Breakfast juice all the way. Which works out well as the youngest in our household is more keen on the Apple Mango flavour (doesn't like orange, apparently 😉 ). You'll find them in the chilled section (they need to stay chilled to maintain their effectiveness) of major supermarkets in Victoria, New South Wales and Queensland.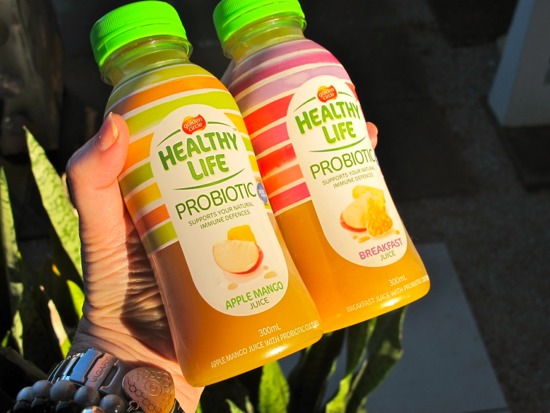 —————————————————————————————-
WIN
Styling You in conjunction with Nuffnang and Golden Circle is giving away a Golden Circle Healthy LifeTM Fruit Juice prize pack with each post in this series. Each pack contains a $50 Woolworths gift card and a 14 day Fernwood Fitness membership.
To enter, answer the question: What Golden Circle Healthy LifeTM Fruit Juice flavour would be your pick and why? Leave your answer in the comment section below. The most creative and original answer wins. This competition opens on August 21, 2012 and closes on August 31, 2012. For full terms and conditions, click here.
But … I know you want more. There is a major giveaway happening as well. At the end of this series one reader from Styling You, Foodwatch or Scoop Nutrition (the other lovely ladies taking part) has the opportunity to win a $1000 lastminute.com.au experience voucher. All you need to do to is in comment, let me know what you think of Golden Circle Health LifeTM Fruit Juice. Full terms and conditions here.
I KNOW. Get entering here.