This morning apparently it was 4 degrees. I say apparently because it's school holidays, I did not need to have a child anywhere until 10am and I remained under my doona until the temperature gauge had reached double figures.
It's these small luxuries that make the winter school holidays so, so good.
Anyway, there is a point to my rambling on about the weather. See, by lunchtime on a Queensland winter's day, should you find yourself a lovely, protected patch of sunlight, it's likely to be 20 plus degrees out.
A Queensland girl has no choice but to become a skilled clothes layerer and such extreme conditions.
We need to be able to peel off a layer every hour and still remain looking "pulled together".
I used to get it very wrong. I'd buy lovely winter woollen knits that were perfect for getting in the car and going to work but once in the aircon, I'd be roasting by morning tea. Alternatively, I'd had a lightweight jacket over my shirt and pants and freeze my bits off.
Nothing changed until I looked at the science of a layered outfit. Once you break a layered outfit down, you can see how you can build it up.
I was reminded of this when Styling You reader Kerri emailed me recently:
So my problem is I can't layer to save myself … there I said it! The very thought of it makes me want to crawl under my doona and stay there. Little problem with this – I have two littlies to look after, oh and then there's work.  Honestly, I love the layered look and very much admire those who do it well, but every time I try, I look like I have thrown on every piece of clothing I own all at once.  Nothing seems to match or sit properly under something else….aaaaggghhhh!!  So I have avoided it for years, but I am tired of being cold in winter and decided it is time to tackle my inability to layer.
So, Kerri, this post is for you … and for any readers still scratching their heads and trying to get understand the layering concept.
Layering in 6 easy steps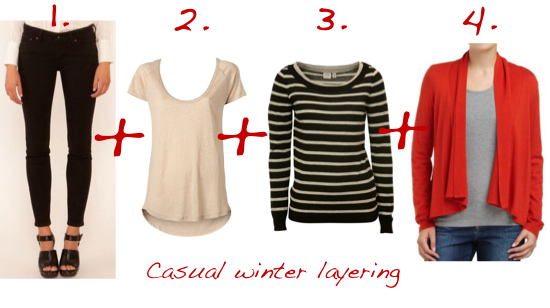 1. Levis Style Leggings @ The Iconic $99.95 | 2. Witchery Scoop Neck Raglan Tee $59.95 | 3. Esprit Fine Boat Neck Sweater @ Birdsnest $79.95 | 4. Sussan High Low cardi $69.95 
1. Start with your base outfit, eg a pair of jeans, tee (tank, short or long-sleeve depending on how cold it is) and boots.
2. Add to the base outfit a cardi or knit (or both) and scarf. These are your base layers. If you're inside and it's warm, this is the base that you'll come down to. Because it's still layered, you'll look pulled together.
3. If it's really warm and the knit or cardi has to come off, leave the scarf on. Any time you layer one extra piece on to your outfit, the outfit is immediately lifted.
4. Ok, so it's a really, really cold day. What do you layer on top of your jeans, tee, knit, boots and scarf? I'm a big fan of the cape-style coat in Queensland because it's usually enough to keep me warm. Need something that will wrap around you a bit more? Opt for a long wool coat.
1. Feathers Boutique Greta Coat $699 | 2. Seed Scarf $49.95 | 3. D.Co Copenhagen boots @ Style Tread on sale $336
5. Want to look a bit more dressy in your layers? Add a jacket instead of a knit or cardi at step 2. Or alternatively swap the jeans and tee for a tights and a long-sleeved dress or tunic, layering a jacket, scarf and coat over the top.
6. Worried that layering will make you look like the Michelin woman? Avoid anything puffy (you know what I'm referring to here, don't you?), chunky or bulky in your layers. You can achieve warmth with thin, wool layers or pieces from labels such as Metalicus (I have a stack of their basics).
Want some more inspiration? Head on over to my Layering board on Pinterest. I've pinned some great examples of layering for autumn, winter and spring.
Because layering doesn't have to be – and shouldn't be – confined to winter.
By definition, it's about layering one extra thing to your outfit. I even do that in summer. How else do I justify my collection of summer-weight scarves?
Do you find it easy to layer your clothes in winter? What's your favourite combination of layers?