I can tell you now, it takes a substantial makeup kit to raise this mid-40s face from slumber to wonder.
And some days I'm very much ok with my face staying in a slumber state. If the only daily interaction planned is with my computer, then I'm a lazy-girl beauty minimalist all the way.
But you knew that, didn't you?
Today I'm not so much going to focus on my lazy side when it comes to minimalising how much makeup I put on; rather I'm going to focus on the types of products that I call on should I need to get my face on … and should I need that face to stay in place for as long as required.
Yes, I'll use more products than I normally would for everyday but in choosing those products wisely, I can indeed then bring out my lazy-girl methods for the duration of the event or meeting I'm attending.  Play my face cards right and the only touch up I'll need to do will be a bit of lippy that attached itself to a champagne glass.
The products that I reach for usually do more than one thing but what they all have in common is that they're all working to help create a flawless canvas on which to apply the fun stuff – the colour.
Think of it like painting walls in your home. The colour is going to lose its impact if the canvas isn't prepped properly beforehand.
Here's my canvas I prepped a little earlier.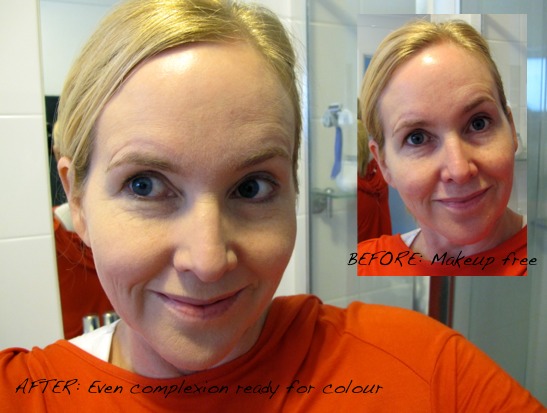 The 6 products I'm likely to reach for:
1. Brushes: I've been using professional makeup brushes for eight years now and they are so worth the investment. Not only is the application of product far superior but you also use seriously so much less. This especially applies to liquid foundation. Lordy … you hardly need a skerrick of foundation to cover your entire face. True. You do have to look after your brushes though. Don't get them wet where the metal head meets the wooden handle. Learned the hard way on that one. Also, use a spray brush cleaner after each use and every couple of weeks give them a wash with shampoo. And this set below? Wowzers … my first foundation brush cost me $80. Such good value.
Alina Makeup Brush Cleaner $19.95 | Catalina Geo Professional Brush Set $129
2. Primer:  I liken primer to velcro. It sits on top of your skin but provides "grip" for your foundation to latch on to. Because it's latching on to your primer, not your skin, it won't soak into your skin and "melt" away. In summer, particularly, I cannot get away without using one. I also love how it evens out any tiny wrinkles in your skin so that your foundation flows smoothly over the top of them and not into them. This particular primer has a cream texture, which instantly smooths your skin. Lots to like here.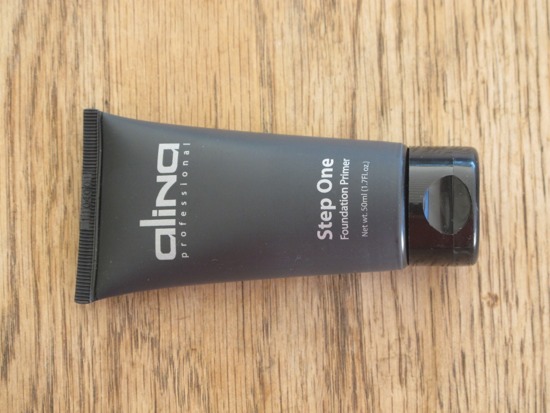 Alina One Step Foundation Primer $39.90
3. Skin tone corrector:  Do you have a bit of redness on the cheeks like me? Maybe some dark spots? Or maybe your skin just looks a bit dull? It is possible to camouflage whatever bits you'd like to with a product that works as colour neutraliser. This green-toned one below is perfect for my cheeks; choose blue for pigmentation; and violet to offset sallowness and give your skin a pick me up. I add this to affected areas underneath my primer.
Catalina Geo Colour Capsule Make Up Base (green) $41.50
4. Concealer: Oh, concealer, my lovely makeup friend who's never left my side since I became a mum. You cover up my lack of sleep under my eyes. You cover up the zits that pop up thinking it's still 1985. You help the colour corrector above to hide those red cheeks. What I love about this one below is that it's super moisturising and useful for covering larger areas (you can use it as your foundation) but still ok for smaller concealing using a brush.
Catalina Geo Skin Cover $45.50
5. Illuminator:  Let's face it, it's not often that we've got our glow going on. No use blaming anyone over lost sleep and too many vinos – too late for that. What's not too late though is a bit of redemption. That's where illuminators come in. I use cream ones, stick ones and powder ones. This one can actually be used as a foundation – wet or dry (dry will probably be too dry in winter on its own) – but where it's a stand out for me is the ability of the formulation to self-adjust to any different lighting you might find yourself in. This helps to stop shadowing on your face and keep you glowing.
Catalina Geo B.I Colour Sensor Two Way Cake $41.50
6. Pressed powder: The final piece in my flawless makeup canvas puzzle is a dusting of pressed powder. This seals all your hard work and keeps you looking fresh throughout the day or evening. This one has the "twist and shave" function that is increasingly used on powders and bronzers to prolong the longevity of the product. The formula also contains kaolin, which absorbs sweat. My kind of powder.
Catalina Geo Face Up Powder $40.50
About Makeup Australia
Makeup Australia provides salon-quality makeup products shipped direct to you. Catalina Geo products are made from premium non-allergenic ingredients and have outstanding results with problem skin types. Alina products have been designed exclusively to complement the existing range of Catalina Geo, while having an up to the minute "fashion focus". Many of the products have natural extracts and mineral bases. Delivery is free Australia-wide on orders over $80.
THIS COMPETITION HAS NOW CLOSED!
Makeup Australia and Styling You is giving one reader the chance to win a $150 gift voucher for use online at Makeup Australia. To enter, leave a comment below, answering this question: What's the one type of makeup item that you can't live without and why? The competition opens at 5.45am on Thursday, July 5 and closes 5pm, Friday July 13. Entries judged on creativity. For full competition terms and conditions, visit here. The winner will be notified via email and and their names published here.