Remember the This Goes With That Sussan ads of the 1980s and '90s? I do. Still can't go into a store without that jingle popping up in my head. Can you?
See, where I grew up in country Queensland, Sussan was the only fashion chain store in town. For a big chunk of my life it was my only lifeline to any semblance of fashion. We're talking, pre-pre-pre online shopping days here. Practically the Stone Shopping Age.
Somewhere along the way, as I left my hometown and discovered the bright fashion lights of the big city, Sussan and I parted fashion ways. Maybe I became a little bit spoilt for choice.
Whatever the reason … I'm BAACCCK!
Well, actually I was well and truly back last summer. From the moment Sussan unveiled its summer collection filled with bright and fun pieces, I was hooked. Seriously hooked.
Yes, the Sussan customer is likely to be a busy mum but the designs are as far removed from "mumsie" as you can possibly get.
Winter 2012 is no exception.
I walked into the Melbourne Bourke Street store on Saturday and was blown away. As I was when I shopped yesterday in my smaller local store here on the Sunshine Coast.
Most of my wardrobe is about relaxed smart casual. Everyday pieces that are comfortable to wear but still offer up style.
Everywhere I turned in store, I liked what a saw – a knit, a scarf, some tights, a necklace, a skirt, some leggings – a whole host of things that could easily slot into my existing wardrobe and feel right at home.
There was one piece that leapt out at me. Well, technically it didn't leap because as we know, Stylers, clothes don't leap, but this one piece spoke to me. Oops, there I go again, clothes don't speak either.
As soon as I laid eyes on this one piece, I had visions of myself throwing it on for winter soccer mornings, Sunday afternoon coffee with a girlfriend or just lazing around the house on a winter's night with a glass of mulled wine in my hand …
And then I imagined my husband's reaction when he saw me in it (Mr Styling You not being known for his "understanding" of the female fashion gene) …
And the deal was sealed.
The striped cape was mine*. It would be my new hero Winter 2012 fashion piece.
Here is the model wearing said object of my fashion obsession:
And here is me:
Let's break that outfit down: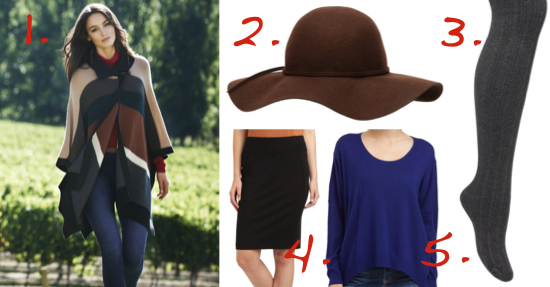 1. Cape $99.95 (sold out online, check in store for availability) | 2. Floppy hat $49.95 | 3. Mini cable tight $24.95 | 4. Ponte tube skirt $59.95 | 5. High-low pullover $69.95 |  TOTAL: $304.75
Ok, so I went a little over budget*. I blame the hat. Really, how could I not have one? So boho luxe without the luxe price tag. I also added in my ASOS tan boots to complete the look.
What I LOVED even more about this outfit was that I could create it all in one store (minus the boots) and walk out knowing that each of the items purchased could also be worn separately and worked back into my current wardrobe to freshen up existing pieces. I believe this is called Purchase Justification.
And backs up the jingle in my head … yes, this really does STILL go with that at Sussan.
* I received a $250 gift card to spend on winter 2012 fashion at Sussan. Shopping online at Sussan is super easy and postage is free for purchases over $150 ($10 if under that amount). It's worthwhile signing up to the VIP program because for every $1 spent in store or online you get one point. When you hit the 500 point mark in 12 months they'll send you a $50 gift voucher. Score.
—————————————————————————————–
THIS COMPETITION IS NOW CLOSED
Silly me, of course you would. We have two $250 Sussan gift cards to give away. We want to hear about winter weekend fashion for you? What do you mostly wear? PLUS, which item from Sussan would you make your hero Winter 2012 piece?
The two people with the most creative and original story will each win a $250 Sussan gift card. Maximum word length: 150 words. There is scope to add a photo to your entry in the comments section below, so please feel free to do this if you would like. This competition opens on Wednesday, April 4 at 6am (AEST) and closes Wednesday April 18 at 6am (AEST). One entry per person. Australian entries only. The total prize pool value is $500. The winners will be contacted via email and their entries could be re-published on Styling You and their names published here.