There I was driving home from an appointment, thinking about what I'd like to make for lunch when the phone rings.
Oh goody, I thought. I'm in Mr Styling You's car and he has that fancy schmancy bluetooth thing, I can actually answer the call and feel all super exec like.
In the background I can hear a bit of noise. The beep of the register scanner. The kind of noise that sounds like therapy. Retail therapy. Music to my ears, really.
Then I hear the dulcet tones of Mrs Woog. She's talking to me in the animated style that I clearly recognise. It's the animated voice that comes off the back of a solid retail fix. The discovery of a piece of clothing that you didn't realise you had to have until you had it.
For Mrs Woog it was this dress from Seed. Seed calls it the Tube Maxi Dress. Mrs Woog wasn't having a bar of such mundane labelling, promptly christening it The Condom Dress and going into a mild panic as to what to actually wear with said Condom Dress she had to have. And buy for her sister and her mum.
As I pondered her dilemma and wondered whether owning a Condom Dress makes you the ultimate Safety Girl, I arrived home to this email in my inbox:
Here is the Condom Dress. I cannot wear with with just a jacket because of my g*nt. I tried it on with drapey t-shirts etc so you could see the layering. It is pretty tight around my ass as well, but comfy as and smooths out the lumps. Could you tell me how to wear it for these three occasions: out getting sozzled with my mates at a wine bar; having a sensible lunch with the in-laws; the casual pick it up off the floor for the school run? (You can read her interpretation of the morning's events here)
Before I get down to the nitty gritty and prettiness of these three outfits, let's touch briefly on the wonderment of this piece as a wardrobe staple.
1. It's black. It goes with everything.
2. It's trans-seasonal. Read, cost-per-wear it will be down to about 50cents by the time winter arrives.
3. It's a key layering piece. Layering is the secret to a happy and diverse wardrobe that you love and one that loves you back.
4. It's a tube – and you want it to be a tube. You want to create a tube or a column in yourself with this piece, so that you are stretched and elongated. A look I'm particularly fond of at all times.
5. It will not require any association with an iron. No more to say here really.
6. Think of it as a fun alternative to leggings or skinny jeans and style for yourself accordingly.
Without further ado, let's unveil the looks.
—————————————————————————————–
Out getting sozzled with your mates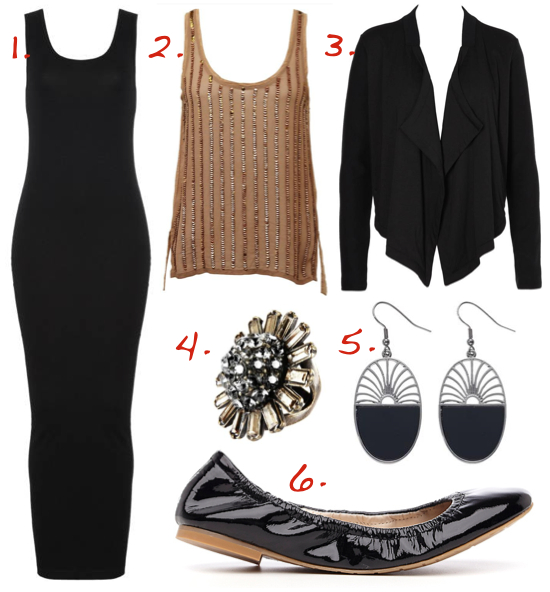 1. Seed tube maxi dress $49.95 | 2. Seed tank $89.95 | 3. Seed jacket $159.95 | 4. Peter Lang ring $80 | 5. Samantha Wills earrings $110 | 6. Nine West ballets $149
—————————————————————————————–
Having a sensible lunch with the in-laws
1. Seed tube maxi dress $49.95 | 2. Virtu blouse $79.95 | 3. Mimco Snake Charmer ring $79.95 | 4. Witchery cardi $139.95 | 5. Sambag ballets $175
—————————————————————————————–
Pick off the floor for the school run
1. Seed tube maxi dress $49.95 | 2. Sara Tunic $59.95 | 3. Seed cardi $149.95 | 4. Uberkate Ubercircles $625 | 5. Seed loafer $69.95
Bet you never knew you needed a tube dress in your wardrobe did you? Which of these outfits do you like best? Can you tell I'm a BIG fan of the draped cardi or jacket?
UPDATE: It seems you're all going bananas for this dress from Seed. If you do buy one (and I know some of you already have) could you please post a photo of yourself wearing it on the Styling You Facebook page or Mrs Woog's Facebook page? You can find more details about this here.
FURTHER UPDATE: The gallery of photos showing more than 30 different looks on so many different women is now up. Check it out and email me ([email protected]) if you have a photo to add.