Remember last month when I sentenced myself to 30 days' community hair service? (If you missed that, I'll wait if you want to click over and check out my hair crimes.)
Well, I've made it. And I must say my hair parole officer is particularly impressed with the respect I've shown my hair of late.
Quite frankly, I think my hair may still be in a state of shock.
I know I am.
You see, I'm shocked that a hair oil that has a RRP of under $10 could actually make a difference to my battle-weary locks.
It started with the first time my hair lapped up the first application of Dove Nutritive Nourishing Oil Care Treatment.
Yes. The FIRST time.
I'd washed my hair, towel dried it (I've got one of those clever super soak-up towels … my thick mop needs it) and was about to put on one of my regular hair oils when I remembered. Dove. Must use Dove treatment for month.
I did the towel-wrapped nudie run to my desk, grabbed the oil, squeezed out about four pumps and spread it through my hair from mid-lengths to ends using my fingers and then combed through with a wide-toothed comb.
The silkiness was there immediately.
(Now, before I go any further, you all saw the disclosure of the top, didn't you? Yes, I'm being paid to write this post but I'm here to tell you that even if I weren't I'd be saying the same things. Just saying.)
For me, the Holy Grail of a beauty find worth telling the world about is something that:
a) Is easy to use.
c) Actually does what it says it's going to.
d) Preferably all of the above.
So stick with me here as I talk you through my hair's Dove experience.
As I said the silky feel was there from the first application. The oil itself is not as dense or viscous as my usual, so I had my sceptic hat on. Big time.
As my hair dried – naturally – on this first occasion, I realised that I really needed to take that sceptic hat off. For starters, hat hair is not a good look. For seconders, I couldn't actually stop playing with my hair – in kind of a twisty, twirly, swinging-on-my-chair-in-the-back-row-of-Year-10-kind-of way.
The reason I couldn't stop playing: it was softer, smoother and didn't "feel" frizzy. And this was on a humid Queensland day.
OK, I thought. Wow. If this is just what one treatment feels like, maybe I should wash my hair everyday to stick some more of it in?
Totally silly idea of course. You all know I'm the master of the lazy-girl beauty routine.
On average I wash my hair twice a week*. I have … horrors of horrors … been known to go a whole week. Under the pretence, of course, that this is actually good for my hair 🙂
So, that means on average I've used this product on my hair eight times over the past month – each time with the same effect but with a noticeable cumulative effect on the overall health of my hair.
In particular, it's the mid-lengths of my hair, which are most different. My ends are happier with me but I can't help thinking that with another month or so using the product, they might make it to hair nirvana.
Would you like to see the results?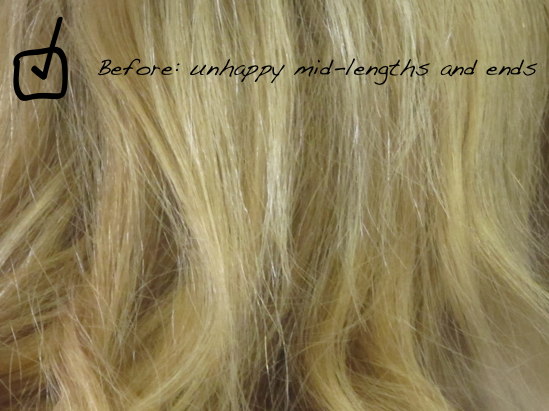 There's no trick photography here. No, clearly I can't even match up the lighting conditions, taking my hair from brassy to ashen in 30 days. I can assure you that's not the reality – my hair colour has not changed. What is the reality is that, in both cases, this was my hair washed, oiled and left to dry naturally. No blow-drying. No straightening irons. Just my inherent beauty laziness and me.
I just might believe in budget hair miracles, after all. Do you?
* Dove recommends that you wash your hair at least 4 times a week, if not everyday and condition your hair after every wash for optimum results.
PS. Don't forget that you can still enter on the Dove Facebook page for your chance to win a professional photo shoot and hair products for a year.
PPS. The 10 winners of the Dove Nutritive Nourishing Oil Care Treatment will be announced here early next week.