Jeggings.
There are few words in fashion bound to illicit such polarising reactions as discussion around these hybrid pants.
The J word came up on yesterday's Keeping It Real post. The post in which I wore one of my pairs of NYDJ jeggings.
Over the past few winters, jeggings have ended up with a bad wrap. But most are not bad. They are just let down by some bad types out there … types of jeggings … and the owners of said jeggings.
As Mrs Woog said on my post yesterday:  I love jeggings and I do not care who knows it!
As a responsible jeggings owner and in the self-interest and protection of the jeggings clothing species, I thought I'd share my rules for finding a pair of jeggings and making it work for you.
Cindy Finch nailed it with her response to my outing my jeggings in yesterday's post:  They are THE BEST things ever invented as long as you follow the rules – jeggings are NOT pants – as we all know – and as long as your butt and any hint of camel toe are covered you are laughing. (You are also able to breath and stretch and bend and jump etc. etc. etc.).
Couldn't have said it better myself, Cindy.
Which is why I felt I had to spell it all out here in: The Rules of Jeggings
1. Jeggings are technically not jeans and technically not leggings. When looking to buy jeggings, go for a pair that leans more on the jean side than the jegging side. The fabric should have a bit of weight to it. Yes, it will be stretchy but there should be a zip and you should not see your panty line through them. NYJD does this well, as does Country Road, which has been bringing out jeggings for several seasons now.
2. Even if your jeggings do err quite comfortably on the jean side of the equation, very few of us can actually get away with pairing them with a short top. Good luck to you if you can (see the styling on the Country Road models below). For the rest of us, longer tops and tunics are our jegging friends. What you are aiming to do here (apart from hiding any possible camel toe sightings … this is not a wildlife safari Stylers) is balancing proportions in your outfit. When you balance the slim structure of the jeggings and flowy unstructured in the top, it's a winning combo. You can then create shape using a jacket – and yes the jacket should be shorter than the top to achieve this.
3. With jeggings, you are emphasising your legs, so even if you're not too fond of yours, it's a matter of going with a top or tunic length that flows over the top of your thighs, finishing at your most flattering point just above the knee.
4. Jeggings look great worn with ballet flats or loafers for casual but add a heel and va, va, va, voom, your legs will look like they have taken on supermodel proportions (well if you squint in the mirror like I do).
5. If the jegging is too long for your leg, it's important that you get it taken up so that the effect is not the opposite of that of a supermodel.
Here are some jeggings I other clever people prepared earlier:
Country Road 5-pocket jegging $99 (size 4-14)
Ezibuy Emerge jeggings $49.99 (size 8-20)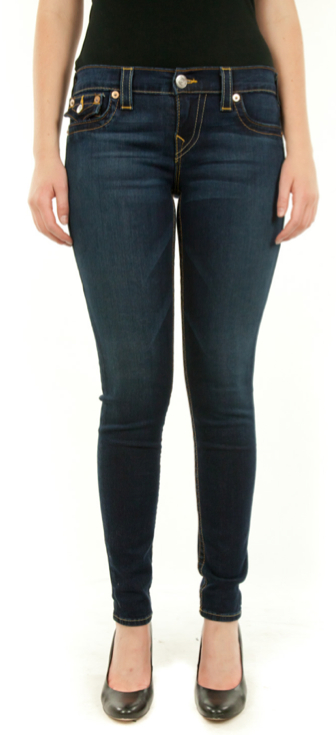 True Religion Misty Legging Jean @ Birdsnest $219 (size 25-32)
Not Your Daughter's Jeans Twiggy Skinny Jeans @ Birdsnest $199 (size 6-20)
I hope this goes some way to answer you question, Virginia Waugh: Can a 40+, size 12-14 (ok, 14!!!!) 163 cm shorty do skinny pants??? NYDJ here I come! and Kylie Huckstepp: how big a size can we get jeggings in … do I dare?
I say YES and YES.
What do you say?
PS. On Justb. yesterday I blogged about my 5 key fashion trends for autumn … yes, I'm excited about the new season and planning my "investments" 😉