Back in the '80s I was in the formative and impressionable years of my obsession with beauty products. By formative and impressionable, I mean constrained by a student's budget and guaranteed to go weak at the knees whenever walking through the cosmetic sections of Myer or David Jones in the city.
I remember my step mum clearly being in similar awe of such shiny counters of loveliness (but without the student budget), especially the one day she arrived home with a haul of Shiseido skincare that had me turning an unattractive shade of green.
Specifically causing this envy within that haul was a cleanser which was used in conjunction with a circular-headed brush. I couldn't wait to get my face on that brush. It was the very next thing that my checkout-chick job funded.
The premise was that you applied your cleanser and then enhanced the cleansing by moving the brush in little circles around your face. Facial bliss.
So when the 21st century versions landed on my desk, I thought genius. The vibrator every woman really does need.
The Clarisonic Mia came to stay in our house a couple of months ago. She has been a very welcome guest and I plan to keep her on. She pays her way by giving me soft, supple skin on a daily basis. She also doesn't require a lot from me except for the odd charge up.
Mia was a bit put out with Ultrasonic arrived on my bathroom shelf two weeks ago but we've had words about it. I broke it to her that it's my job to try all skincare options and if there's a cheaper sonic cleanser alternative out there that offers the same results, then I needed to know about that.
She's still sulking but secretly I think she's enjoying a little down time …
Me? I'm swinging between both camps but will probably side with Mia on this one because of the slightly more compact size. I also prefer (or have got used to) the softness of the Mia's bristles.
Having said that … and thinking of my student days … that $80 price difference would have been enough to make me swing towards the Ultrasonic.
The lowdown
Both the Mia, which is the baby sister of the Clarisonic Classic and Clarisonic Gold and a favourite of flawlessly skinned Gywneth Paltrow, and the Ultrasonic work thanks to a circular brush head that oscillates at a rate of more than 300 sonic movements per second. They are designed to remove up to six times more makeup and twice as much dirt and oil compared with manual cleansing – and are safe enough to use every day. All this works to help your skin look smoother, reduce oily areas and dry patches, kiss blemishes goodbye and lessen the size of visible pores.
Cream it up
As a lady of a *certain* age, the only cleansers that come near my skin are of the cream variety … except on those nights when I can't be bothered have had too many champagnes and I reach for the face wipes beside my bed. And, as it turns out, cream cleansers are perrrrfect for a little sonic action. Better still, a little bit of cleanser goes a long way when you're helping it along with those 300 sonic movements per second so you'll save $ there too. Here's what I've been using with mine (click on the links below to find out more).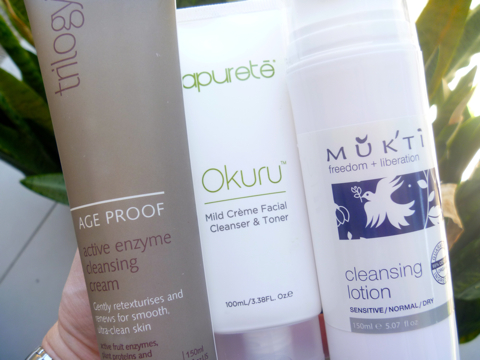 1. Trilogy Age Proof Active Enzyme Cleansing Cream $39.95 | 2. Lapurete Okuru Mild Creme Facial Cleanser & Toner $39.90 | 3. Mukti Cleansing Lotion $35.95
What's your take on giving your cleansing a little helping hand? Have you got a sonic cleanser? Have you been impressed with the results?
These products are sent to me for editorial consideration under the terms of my disclosure policy as outlined here.